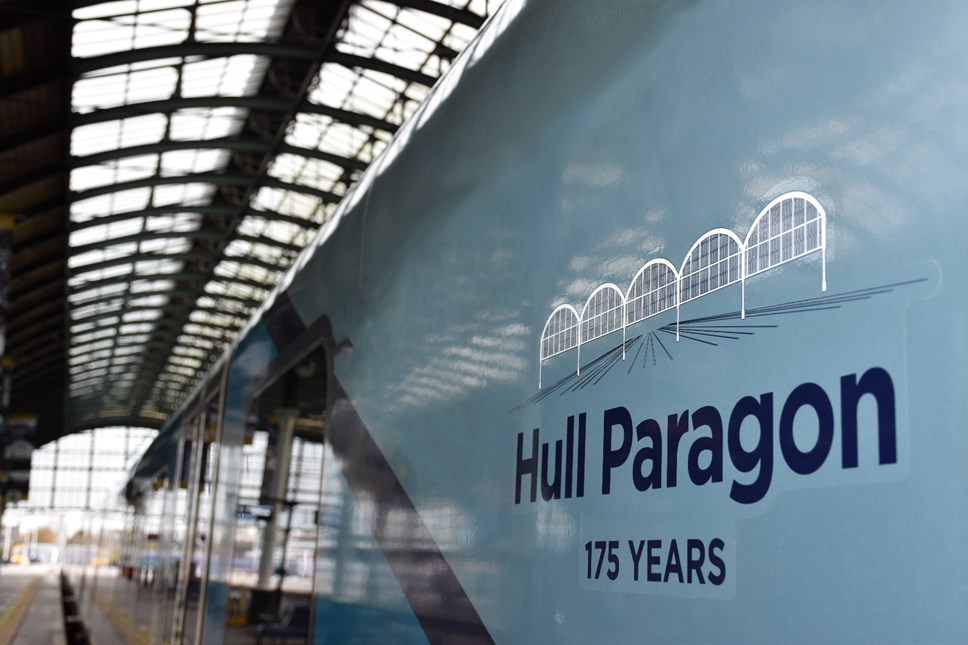 All aboard the Hull Paragon 175: TransPennine Express names train in honour of historic station
A TransPennine Express (TPE) Class 185 train has today been named 'Hull Paragon 175' by current and former station managers of Hull Paragon Interchange in honour of the historic station celebrating its 175th anniversary.
The train named today, at the station that first opened in 1848, will now serve thousands of people as it travels around the wider TPE network across the North of England. The former station managers between then collectively have spent 19 years running Hull Paragon.
Chris Jackson, Managing Director at TPE, said: "We are thrilled to be able to celebrate the 175th anniversary of Hull Paragon Station and name one of our trains after the grand building that continues to be a vital hub for the city, serving 10 million train and bus passengers a year.
"The station has served millions of passengers throughout its storied history and we're proud that our newly named train will now serve passengers across the TPE network whilst carrying the Hull Paragon 175 name."
The train naming is part of a series of celebratory activities taking place at the Interchange including the installation of a vibrant mural created by local artist Andy Pea that has transformed the Ferensway entrance of the station, providing a kaleidoscope of Hull's history and culture across four walls and the ceiling.
Those celebratory activities also include activities on the concourse with local community groups, installation of banners and information boards to help tell the story of Hull Paragon over the previous 175 years. Historical talks and tours of the Interchange by local historian Jamie Topliss-Yates have also taken place and pupils from Adelaide Primary School were given a special day out visiting the Interchange which included a train ride to Brough.
Ben Courtney, Hull Paragon Station Manager for TPE, said: "I'm so proud that one of our trains has been renamed after the station. Hull is my home and the Interchange, in particular the station, is a crucial transport link for thousands.
"It's been an honour to be a part of the 175th anniversary celebrations and I'm excited to see the finished artwork that local artist Andy Pea has created. I am sure that it will leave a lasting impression on visitors and enhance the journeys of regular Interchange users."
Earlier this year, TPE opened the doors to a new multi-agency safeguarding hub in a bid to make Hull Paragon Interchange even safer, following a £100k investment by the train.
Thanks to this new hub and the incredible efforts of colleagues across the network, TPE was awarded the Safeguarding on Rail Accreditation from British Transport Police (BTP) and the Department for Transport. More than 300 interventions have been made by TPE in the past year, where colleagues have recognised and supported vulnerable people.
In October, TPE released its blueprint to make journeys better that included plans to focus on stabilising the operation to deliver better reliability and punctuality, re-engage with its customers, colleagues and stakeholders and transform its network through innovation and investment in better facilities.
For Hull Paragon Interchange those plans include installation of new benches, trees and plants, and the refurbishment and expansion of the toilets. In partnership with Network Rail the historically significant platform one will be brought back into passenger use and the plans will also include facilitating new and exciting retail options for the Interchange.
Chris Jackson added: "We're starting a new chapter at TransPennine Express, with plans now in place to deliver a more reliable, punctual and dependable service across the towns and cities we connect.
"In the coming years, TPE will be making significant changes to improve the business, ensure trains run on time, and to give customers the best possible journey experience in its stations and on its trains."
Councillor Mark Ieronimo, portfolio holder for transportation, roads and highways at Hull City Council said: "Hull Paragon Station is a significant landmark in the city, as well as important piece of history so I'm delighted to see TransPennine Express choosing to honour it in its 175th anniversary year. We hope our residents will also enjoy the art installation on their next visit to the station."