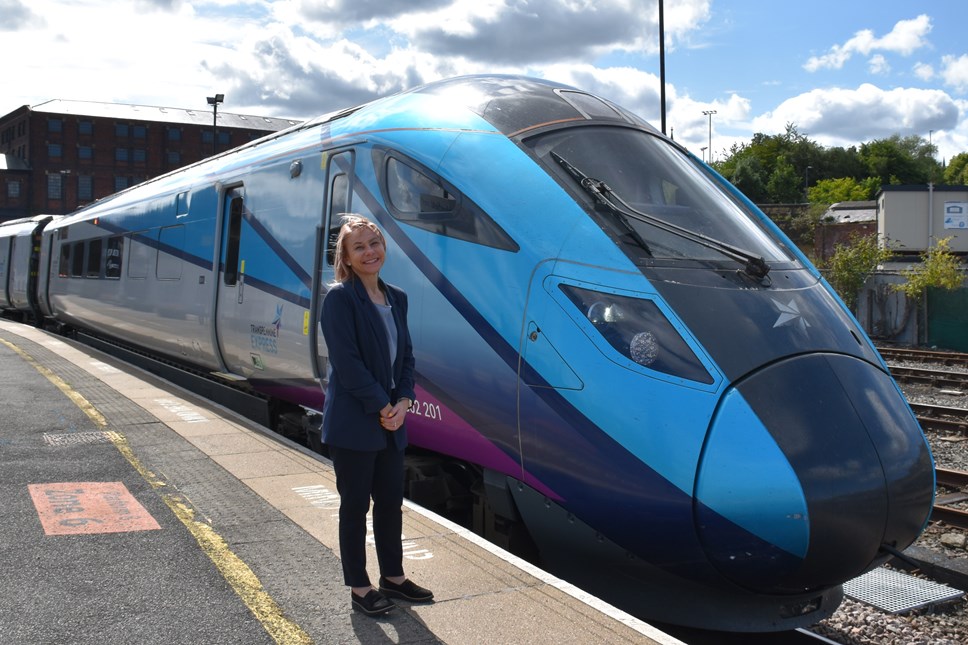 Anita on the 'Wright' track to success
TransPennine Express (TPE) is celebrating one of its colleague's success stories following an exciting career change.
Anita Wright, 50, joined TPE as a qualified driver in October 2022 after previously working as both a driver and driver manager at East Midlands Rail.
Now Anita's switching tracks and is taking up the role of Operations Development Manager.
Anita said: "It's wonderful to see a good number of women who now work within the rail industry, especially within traditionally male dominated roles such as train drivers.
"Diversity, inclusion, and fun is part of the culture at TPE, and I truly feel like every career opportunity is open to anyone, regardless of their gender. After 14 years as a driver and driver instructor, and 10 years as a driver manager, I decided I was ready to take on a new challenge and after encouragement from my peers, perused a new role within the operations team.
"As Operations Development Manager I support the development of our drivers, conductors and traincrew management team. I'm really excited to get stuck into this new challenge."
Kathryn O'Brien, Customer Service and Operations Director at TPE said: "Anita is great example of the hard work we're doing at TPE to break the stereotypes of traditional roles within the rail industry.
"It's been a pleasure to work alongside Anita and I hope she will encourage other women to follow in her footsteps."
TPE is always looking for bright talent to come on board and join the team. For the latest vacancies click here.
Q&A with Anita
What made you want to become a train driver?
I first became interested in a career within rail through my dad who worked within rail industry for many years. At that time, it was a very male dominated industry with very few women train drivers. I first joined the railway as a customer host on the intercity trains and I quickly became fascinated with the role of train driver and chose this as a career path, despite this not being the 'norm' for women.
What changes have you seen throughout your time within the rail industry?
When I first joined the rail industry in the late 90s things were very different. There was a very distinct pressure to prove yourself as a woman to your male colleagues. Today, there is a lot more diversity within the industry and every day more and more women are joining the team. Twenty years on and the rail industry has changed significantly and for the better!
How did it feel it feel to drive your first train?
The feeling of completing the training and being given the responsibility of driving my first train was an amazing, if not nerve-wracking moment, and one which I haven't forgot over 23 years later. The sense of pride I felt to be able to drive trains at speeds in excess of 100 mph was euphoric. This then set me on a very rewarding career path where I have progressed from driver to driver instructor and most recently into management.
What do you love about the job?
The best part about driving for me would be the feeling of being your own boss, the responsibility and pride I get from ensuring passengers get to their destinations safely and in comfort. You also get a generous amount of days off which gives a lot of flexibility to have quality time off to see friends and family. I enjoy the shift work, which generally means you don't have the daily stressful commute in rush hour traffic week in week out.
Are there good career opportunities within rail?
Diversity, inclusion and fun is part of our community at TPE and every opportunity is now open for anyone at our company. It's also a great start for people leaving school, college and university with attractive salary packages, good conditions and career paths. You will also be supported along your journey with excellent training and development packages with our very knowledgeable and friendly learning and development team.
Why should more women apply for jobs within rail?
It's wonderful to see a good number of women who now work within the rail industry and more importantly the number of women who have become train drivers. There's still progress to be made but I'm passionate about seeing more women not only come into the driver grade but also progress through the ranks. The policies and training allow women young or old, with or without children to achieve their career goals whether that be in driving trains are any other role in rail. Come and be part of our wonderful 'Railway Family'.