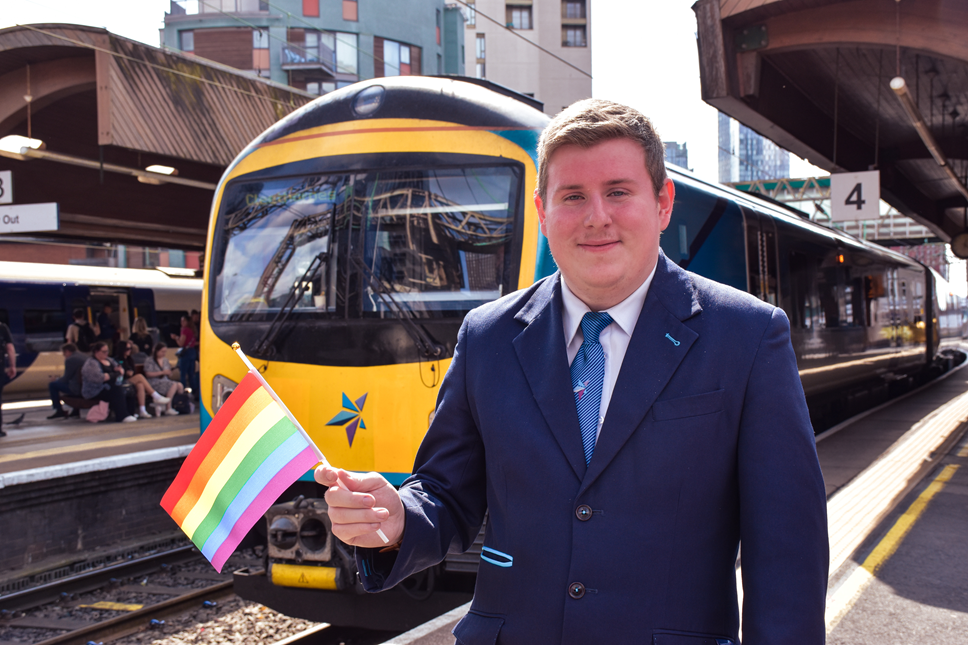 Meet the Liverpool conductor waving the rainbow flag for Pride
Liverpool based conductor, Benjamin McGowan, is celebrating Pride Month and is proud to be part of TPE's LGBTQ+ network, which is working to make the rail industry even more inclusive.
Ben, 23, has been actively involved in the LGBTQ+ network at TransPennine Express (TPE), which is dedicated to promoting diversity and inclusion across the organisation.
Ben said: "For me, Pride isn't just celebrated in one month; it's celebrated the entire year. As a gay man, I feel like I can fully be myself and express my identity at work without fear of judgement.
"At TPE, we try to be supportive of all colleagues and are committed to fostering a sense of togetherness between our colleagues, customers, and the communities that we serve.
As a member of the LGBTQ+ community, Ben is passionate about creating safe and welcoming spaces for all passengers, regardless of their sexual orientation or gender identify.
Ben added: "The LGBTQ+ network that I am a part of helps to guide TPE in how to be even more inclusive and celebrate diversity.
"There are so many simple ways in which you can show support whether that's including your pronouns on your email signature or wearing a visible symbol such as the rainbow pride lanyard."
Harriet Harbidge, Diversity and Inclusion Manager for TPE, said: "While June marks Pride Month, we strive to create an inclusive environment at TPE year-round.
"We work closely with our LGBTQ+ networking group where our colleagues can have their say on what's most important to them and endeavour to create a welcoming environment for all."
This Pride Month, TPE has taken an important step towards promoting diversity and inclusion by issuing a 'Pride Pack' to all of its colleagues. The pack is designed to educate and provide guidance on the history of Pride Month and how colleagues can be intentional allies to the LGBTQ+ community.
Read more about TPE's commitments to diversity and inclusion.