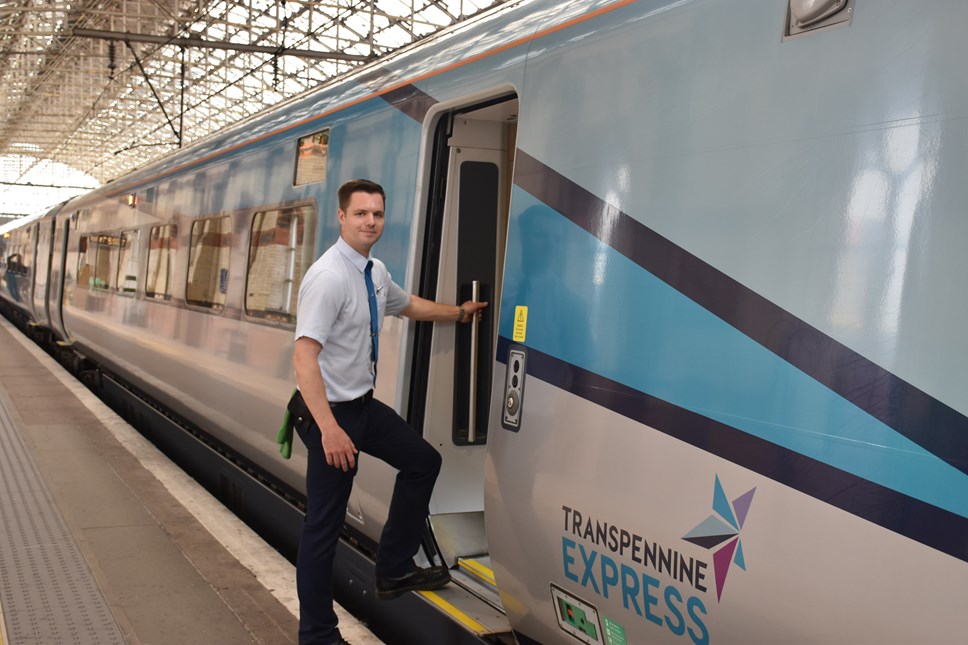 Running for a Cause: TPE Conductor's remarkable journey from cancer diagnosis to the Great North Run
A TransPennine Express (TPE) conductor is gearing up to take on the Great North Run after he was diagnosed with Hodgkin Lymphoma in 2019.
Simon Rashleigh, 30, from Bolton will be taking on the challenge of running 21km this Sunday (10 September) in an effort to raise money for the Christie Trust following lifesaving cancer treatment.
Simon, who is competing in the Great North Run for the fourth time, said: "I joined TPE as a conductor in January 2019 and in September that same year was diagnosed with stage two Hodgkin Lymphoma.
"I was restricted operationally and temporarily switched to a role within the commercial department of our head office in Manchester which enabled me to have some sort of normality and the flexibility to attend hospital appointments.
"I started treatment on December 27, 2019, and had 12 six-hour sessions of chemotherapy with a two-week gap between each session. This was administered by the Churchill Ward nurses at Bolton hospital with the drugs formulated at The Christie in Manchester.
"The course of treatment was tough with some very nasty side effects, including losing all my hair. I remember only having one eyelash left by the end of the treatment. The cumulative effects were worse as each time and my body was slower and slower in breaking down the chemotherapy.
"The physical effects of the cancer and its treatment are bad enough without the added mental health struggles. During my treatment the Covid-19 pandemic hit and the fear of having no immune system and catching a deadly disease kicked in.
"I was unable to see my fiancé, Joe Dobson, who is also a conductor for TPE, and the things that brought me a small level of comfort and joy were taken away from me. This was the lowest point of my treatment.
"Fortunately, the treatment worked exactly as intended but as a belt and braces measure, I was administered 15 rounds of radiotherapy at the Christie Hospital."
Three years on and Simon is now in remission and wants to raise awareness of Hodgkin Lymphoma and to raise money for those facing a similar battle.
Simon added: "The support I received from my family and work colleagues really helped me through the toughest of times. I had so many messages of encouragement and love. I remember my conductor instructor, Scott Jarvis, calling me out of the blue just to check how I was doing. These small gestures reminded me that people were thinking of me when I felt as poorly as I hope I will ever be.
"Now, almost four years on I'm running the Great North Run for the fourth time in hopes to raise money for The Christie Trust. I have previously taken part to raise for cancer charities and it never occurred to me how the money I raised would come back to help me only a few years later.
"I'm running for Christie as a thank you for my treatment and to help others who may need their help in the future."
The Christie Trust offers world-class cancer care and treatment and is one of the most advanced cancer centres in the world, treating over 60,000 people a year.
To support Simon and help an amazing charity, you can donate to his JustGiving page.
Notes to editors
Hodgkin lymphoma is a type of cancer that affects your lymphocytes (a type of white blood cell).
There are two main types of lymphoma – Hodgkin lymphoma and non-Hodgkin lymphoma. Both types affect your lymphocytes. But in Hodgkin lymphoma, the cancerous lymphocytes are called Reed-Sternberg cells.
Children and adults of all ages can develop Hodgkin lymphoma, but it is most common in young adults and people over 75.