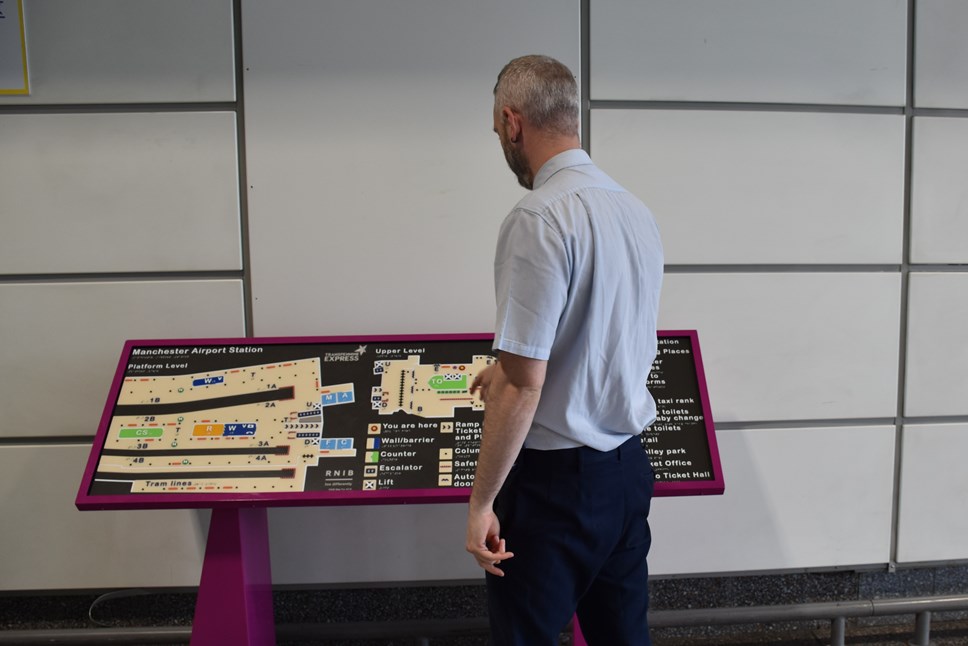 TPE maps the future to more accessible stations
New tactile maps have been installed at Hull Paragon, Dewsbury and Manchester International Airport (MIA) as part of TransPennine Express' (TPE) commitment to help blind and partially sighted passengers find rail travel even more accessible.
The tactile 'Map for All' is a unique product developed and produced by the Royal National Institute of Blind People (RNIB) and is intended for use by people of all ages and abilities.
They can be read by sight, by touch, or a combination of both and are designed with 'access for all' as the core principle.
Chris Jeffrey, Accessibility & Transport Integration Manager for TPE, said: "I am delighted that we now have RNIB Maps for All at at our Hull Paragon, Dewsbury and MIA stations.
"We are committed to making our services as inclusive and accessible as possible and are continuously looking for new and innovative ways to achieve this.
"We installed the maps following feedback from our Customer and Professionals Accessibility Panel who suggested a physical alternative to the many digital wayfinding innovations TPE already has in place."
Each map is carefully created to combine both visual and tactile elements resulting in a map that is a mixture of layers, visual contrasts, textures, raised large print and braille lettering, as well as tactile and visual symbols.
Chris added: "These maps will help blind and partially sighted people navigate our stations more easily and independently, but they are also great for anyone who is new to a station and needs visual directions."
TPE has plans to expand its Maps for All to Huddersfield, Middlesbrough, and Scarborough stations in the future.
Earlier this year TPE launched two new technologies, My Station View and GoodMaps Explore, are both designed to help customers navigate TPE's managed stations across the north.
Notes to editors
RNIB Map for All is manufactured from exterior grade signage plastic that has a non-glare matt finish over a layer of rich colour that resists fingerprints, is stable under ultraviolet light and is suitable for use indoors and outdoors.
RNIB Map for All allows blind and partially sighted people to be more independent when visiting a wide variety of buildings and venues, contributing to a more inclusive lifestyle.