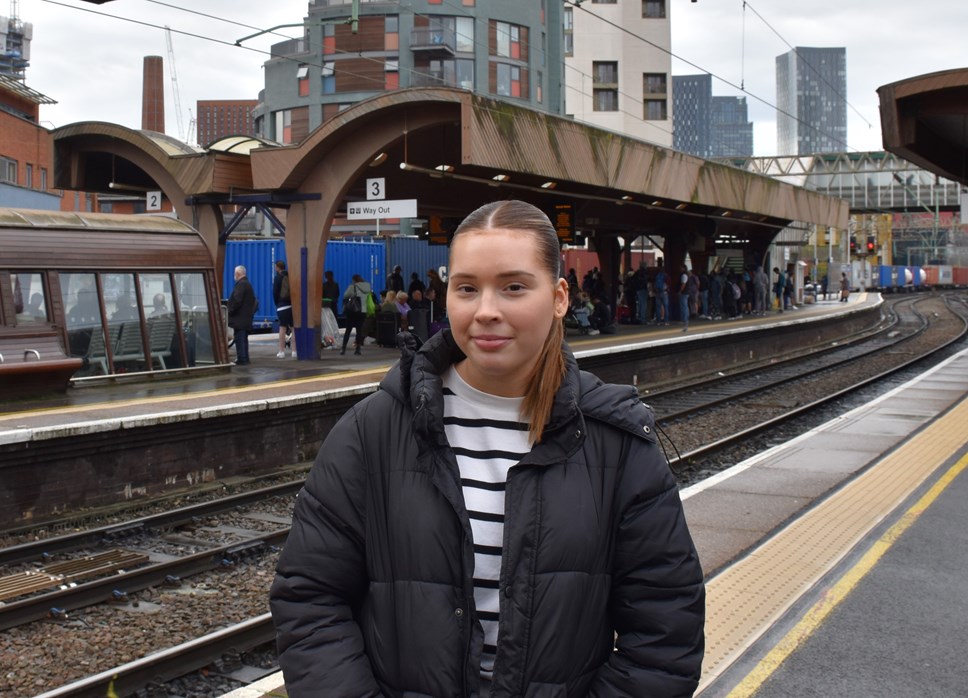 TPE on track to a greener future by welcoming its inaugural sustainability apprentice onboard
TransPennine Express (TPE), which operates trains and stations across the North of England and into Scotland, has welcomed its first ever apprentice into the sustainability team.
Lucy Lightbown, an 18-year-old from Bolton, joins the most recent cohort of apprentices who'll have the opportunity to work across different areas of the business, seeing first-hand how everything comes together to keep customers on the move, all whilst gaining the skills required for a career on the rails.
Lucy Lightbown said: "When I finished college, I knew that University was not the right option for me. I have a real passion for the environment, so when I heard about the apprenticeship opening at TPE it seemed like the perfect fit for me.
"This scheme will allow me to earn whilst I learn and make a positive impact on the environment at the same time."
Lucy will also acquire a level four professional qualification in Corporate Responsibility and Sustainability via LDN Apprenticeships Ltd and will gain first-hand experience of applying her knowledge in the working environment.
Lucy will learn what sustainability means to the rail industry by working closely with our sustainability team and industry experts
Lucy added: "I've always been aware of TPE as it serves the area that I live and destinations I love to visit, such as the Lake District.
"When I saw the apprenticeship opening, I read up on the steps TPE has taken to improve its eco-efficiency and become more sustainable, which made me certain this would be a company I'd love to work for.
"I hope to help TPE continue to lower its carbon footprint, become as sustainable as possible, and encourage more people to take the train over less environmentally friendly travel options."
TPE has recently published it latest Sustainability Performance Report, highlighting its achievements against its goals during financial year 2023, including identifying when heaters are not working effectively so they can be replaced with energy efficient upgrades, trialling coffee cup recycling bins, and reporting a 37 per cent improvement on carbon impact per passenger kilometres travelled in 2022/23 in comparison to 2021/2022.
The Sustainability Performance Report provides a transparent account of TPE's performance across all four Pillars of Sustainability - Carbon and Air; Beyond Carbon; TPE's People; and TPE's Customers and Communities.
Nicola Martin, Head of Sustainability for TPE, said: "I'm delighted to welcome Lucy into the sustainability team. In the short time she's been with us she's shown passion, commitment, and an eagerness to learn.
"It's a very exciting time to join TPE as we embed of first ever sustainability strategy, which we launched in June 2022, to coincide with World Environment Day. Our Sustainability Strategy embodies the principles of sustainable development, not just environment, and is part of our transformation plan. It provides a long-term vision, approach with milestone targets, aligned to industry expectations and the UN Sustainable Development Goals. Our annual sustainability performance report provides transparency on progress against our goals, including net zero, circular economy, and good nature to name just a few.
"The apprenticeship programme and its expansion into wider areas of TPE demonstrates that we are actively promoting long-term careers and not just jobs. We also have ambitious plans for increasing our social value through our community engagement activities, which Lucy will get involved in.
"Throughout the next two years Lucy will develop the skills she needs to succeed in a career within the rail industry and in sustainability."
To find out more about the apprenticeships TPE have to offer, and hear what previous apprentices have to say about the scheme, visit: https://www.tpexpress.co.uk/about-us/apprenticeships
Find out more about TPE's commitment to sustainability click here.