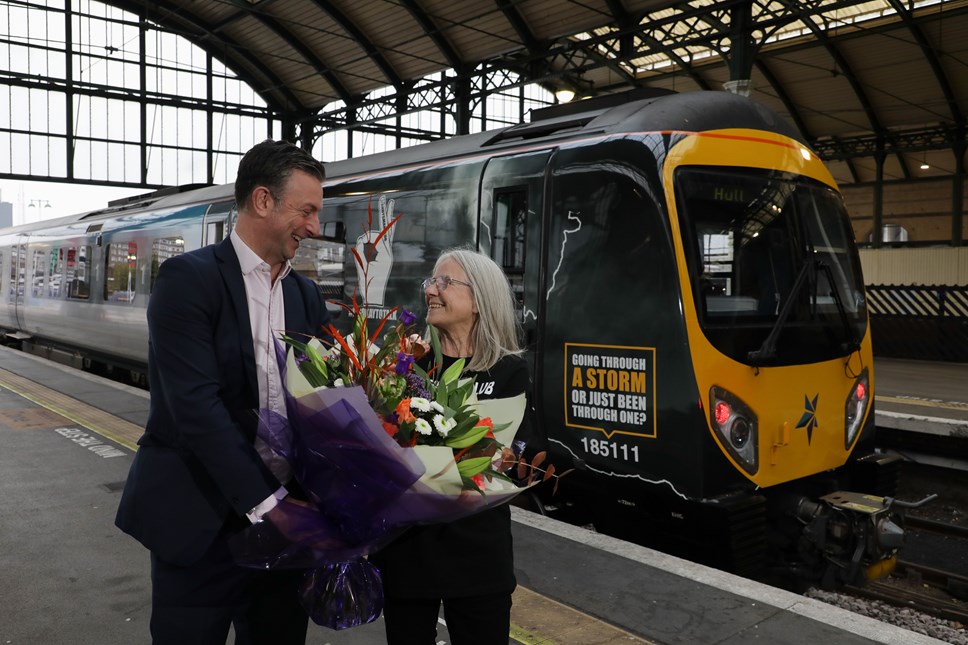 TPE unveils train wrap to get men talking
TransPennine Express (TPE) is supporting International Men's Day with a new train wrap in partnership with Andy's Man Club, a men's suicide prevention charity.
TransPennine Express (TPE) has unveiled a newly wrapped train ahead of International Men's Day reminding customers that it's okay to talk.
TPE has worked with Andy's Man Club, a men's suicide prevention charity, to wrap the Class 185 train that will now be visible throughout the north raising awareness of men's mental health.
Suicide is the biggest killer of men under 50, TPE, along with Andy's Man Club, want to end the stigma surrounding men's mental health and help men through the power of conversation.
Chris Jackson, Managing Director at TPE said: "Charities such as Andy's Man Club are life savers for so many and we're extremely proud to work with them ahead of International Men's Day to unveil the new livery on our train.
"If just one person sees the train and it gives them the confidence to talk about the problems they are facing then our train wrap will have made a difference."
Elaine Roberts, co-founder of Andy's Man Club welcomed the train into Hull Train Station from Liverpool Lime Street to mark its maiden journey. Elaine set up the charity following the death of her son, Andrew Roberts, who sadly took his own life aged 23 in early 2016.
Now, Andy's Man Club has more than 120 free support groups nationwide where men can open up about the issues affecting their lives in a safe, judgement-free and non-clinical environment. The clubs are designed to be free of pressure and there is no obligation for men to speak, they can simply listen if they wish.
Luke Ambler, co-founder of Andy's Man Club said: "A massive thank you to TPE for their support in creating a unique train wrap for Andy's Man Club. As a donation led charity, we are extremely grateful to receive support of this nature and we know that the train will get in front of men in need at the right time."
To complement the work of Andy's Man Club, TPE has seen more than 750 members of staff complete 'Safeguarding on Transport' training, introduced 500 body worn cameras for front line staff and promoted 34 Safeguarding Champions across the TPE network who offer guidance to anyone who may need support and advice when dealing with a vulnerable person or a difficult situation.
Earlier this year, TPE was awarded the Safeguarding on Rail Accreditation from British Transport Police (BTP) and the Department for Transport and due to the incredible efforts of colleagues. More than 300 interventions have been made by TPE in the past year, where colleagues have recognised and supported vulnerable people.
In October, TPE released its blueprint to make journeys better. The prospectus includes a new approach to safety and safeguarding that will see TPE work with industry partners to develop a calendar of safeguarding events across the network, hold a Safeguarding Innovation Day at least once a year and promote the Railway Guardian app to customers and colleagues.
Chris added: "As well as working with charities such as Andy's Man Club, we've taken steps to equip our colleagues with the skills to recognise and support vulnerable people on the railway.
"We've made some fantastic progress on safeguarding this past year and I can't thank our people enough for the work they put in on the front line. However, there is always more we can do. With the help of charities such as Andy's Man Club and by following our new blueprint to make journeys better we hope to achieve much more."
To get in touch with Andy's Man Club and find your nearest club visit: https://andysmanclub.co.uk/find-your-nearest-group/
Anyone can contact Samaritans, free, 24/7, 365 days a year, on 116 123, email jo@samaritans.org or visit www.samaritans.org.