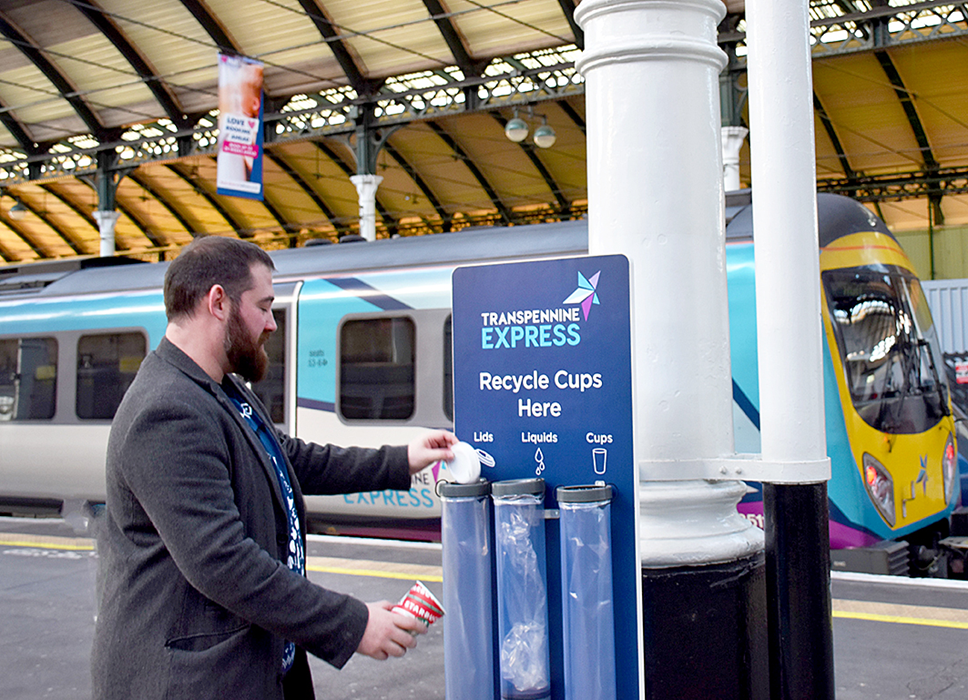 TransPennine Express makes Cleethorpes, Hull and Scarborough stations even greener with new coffee cup recycling bins
TransPennine Express (TPE) has unveiled new recycling bins, specifically for single-use coffee cups, at some of its stations as part of its commitment to sustainability.
The bins have been installed at Cleethorpes, Hull and Scarborough stations as part of a trial to improve recycling at each location, with there being potential for a roll out to further stations in the future.
Each bin is made up of three tubes, one for lids, one for cups and a third for any liquids. A tube bin can be found in each station in easily accessible locations. The cups that are collected will be recycled into new products, rather than being sent to landfill.
Nicola Martin, Head of Sustainability for TransPennine Express, said: "TPE are committed to providing our customers with a more sustainable service. The new coffee cup bins will make it easier for our customers to recycle their waste.
"Single-use coffee cups are one of our biggest forms of customer waste we collect, and it can be extremely difficult to recover these materials from waste bins, making material recovery options limited.
"Most coffee cups are coated in plastic, with only a few specialist facilities able to process and recover the materials, meaning most cups end up at an incinerator.
"TPE is delighted to provide designated coffee cup waste recycling bins to help recover more cups through recycling routes. We are committed to providing more ways for customers to travel sustainably."
Last year TPE collected and recycled 221 tonnes of recyclable waste and the business' recycling rate has increased from 36 per cent to 65 per cent in recent years, and we continue to send zero waste to landfill. TPE has worked closely with waste solution business, co-cre8, to produce the recycling bins and further increase the recycling rate.
Peter Goodwin, Managing Director and co-founder of co-cre8, said "With hot beverage cups now one of the fastest growing waste streams, progressive businesses need solutions to effectively separate them from other materials so that they can be properly recycled.
"Our range of Cup Collection Stations are not only Department for Transport (DFT) approved, but have also been proven to be both practical and durable in transport hub environments. These have also been designed with consumer engagement in mind and so we're delighted to be helping TransPennine Express provide its customers with new ways to become more sustainable"
To discover more about TPEs commitment to sustainability visit Sustainability our vision and ambition (tpexpress.co.uk)
Notes to editors
The locations of the coffee cup bins are:
Hull – outside of the waiting room on platform 3
Scarborough – by the bike racks on platform 3
Cleethorpes - on the concourse between platforms 1 and 2