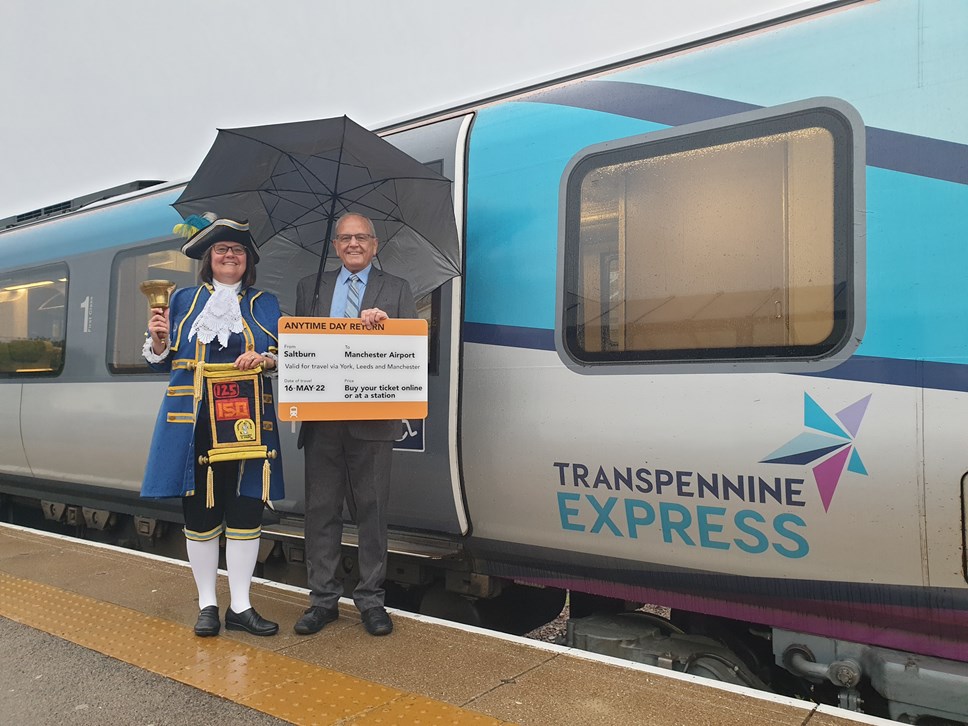 New rail link for Saltburn
Customers in the North East can now benefit from a new rail link between Saltburn and Manchester Airport, providing direct travel between cities including York, Leeds and Manchester.
Rail operator TransPennine Express (TPE) has now extended a small number of its services on this route to Saltburn in a boost to connectivity for communities across the region.
Those travelling to or from Saltburn will now be able to make their journeys onboard TPE's modern trains featuring spacious interiors, free Wi-Fi in Standard and First Class and access to free entertainment system, Exstream.
Representatives from the local community, including Councillor Cliff Foggo, Cabinet Member for Highways and Transport for Redcar & Cleveland Borough Council, Councillor Philip Thomson and Sharon Wilson, Saltburn Town Crier were on hand to formally welcome the first TPE passenger train out of Saltburn earlier this week.
Kathryn O'Brien, Customer Experience Director for TransPennine Express said: "We are thrilled to have been able to extend our Manchester Airport to Redcar Central service to Saltburn in a boost to connectivity for those travelling to York, Leeds and Manchester.
"While we have been able to extend some of our services through to Saltburn, we have plans to make further improvements to this, later this year."
Tees Valley Mayor Ben Houchen said: "This is a fantastic result and one I've been campaigning on for years. It's great to hear that this work is paying off and the first train is finally pulling out of the station. This service will help give the people of Saltburn and East Cleveland the direct, reliable connections that they deserve, linking them with York, Leeds and Manchester. It's a welcome move now coronavirus restrictions are entirely lifted and people are starting to have the confidence to travel once more. It will help businesses forge new connections, people to easily meet friends and family and drive tourism to our coast."
Councillor Cliff Foggo, Cabinet Member for Highways and Transport for Redcar & Cleveland Borough Council, said: "This is excellent news. Better public transport is crucial not only for the convenience of our residents and visitors but also for our economy as it helps us attract further investment. It also helps the environment as it encourages more people to leave the car behind more often. I would like to thank and congratulate everyone involved."
Simon Clarke, Conservative MP for Middlesbrough South and East Cleveland, added: "From this Monday, visitors and residents will be able to take advantage of TransPennine Express new services connecting Saltburn to Yarm, Northallerton, Thirsk, York, Leeds, Huddersfield and Manchester. And by December that timetable is planned to be boosted to provide an hourly service to and from Saltburn and Manchester. This is great news for Saltburn's tourism sector allowing visitors to come to our region and giving residents direct access to these major towns and cities across the North of England. This is the kind of progress we should all welcome. The better our connections to the rest of the UK, the better the opportunities for our part of the world."
The following TPE services now run to/from Saltburn on weekdays:
0554 Saltburn – Manchester Airport
2008 Saltburn – York
2310 Saltburn – York
1640 Manchester Airport – Saltburn
1938 Manchester Airport – Saltburn
Customers travelling to Saltburn in Standard Class can travel for as little as £12.00 from York, £14.60 from Leeds or from Manchester Airport, £20.40.
Tickets can be purchased online via our website or using the TPExpress App where people can pay using Apple Pay, Google Pay or PayPal. E-tickets are also available allowing customers to use their phone instead of a paper ticket.
Enhanced cleaning remains in place on TPE trains and at stations so that customers can travel with confidence.