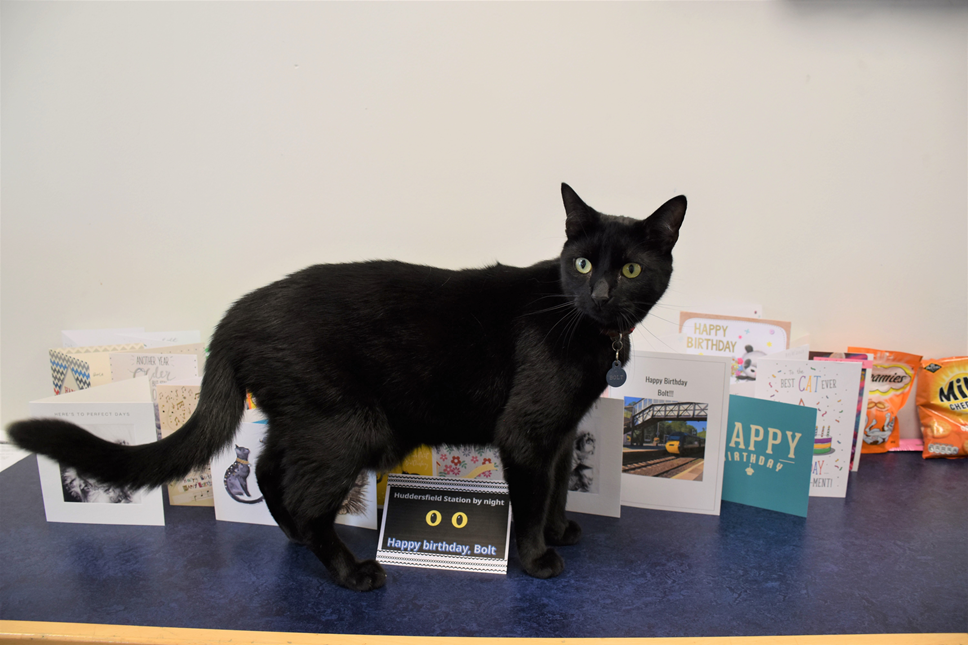 Furry Fundraising: Huddersfield Station cat raises over £500 for local charities
After celebrating a 'purr-fect' fifth birthday, Huddersfield's beloved 'Bolty boy' generously donated his birthday gifts to five local charities.
Bolt, the Junior Pest Controller, joined the TransPennine Express (TPE) team at Huddersfield Station in 2019 as an apprentice to internet sensation and Senior Pest Controller, Felix.
The two cats are feline phenomena with over 186,000 Facebook followers, two top-selling published books, and an annual fundraising calendar.
Angela Hunte, Huddersfield Station Manager, said: "Felix and Bolt are well loved, and the pair often attract visitors from around the world.
"We try to deter their fans from sending any money to the station and request that if people wish to send a gift, they instead make a charity donation on the furry duo's behalf."
Bolt's fifth birthday was a global sensation! He received thousands of birthday messages online and cards through the post from as far away as Canada.
Angela added: "This year, our lovely Bolty boy was inundated with well wishes and birthday cards, some of which contained cash gifts.
"As a result, we will be making donations to five local charities that are close to the Huddersfield team's hearts."
TPE will be donating £100 to each of the following charities:
MND Association. The Motor Neurone Disease Association focuses on improving access to care, research and campaigning for those people living with or affected by motor neurone disease in England, Wales and Northern Ireland.
The Welcome Centre. Huddersfield based food bank which helps local families and individuals in crisis with food, toiletries, and other essential items.
Men's Shed. A community group based next to Huddersfield Railway Station, which supports men of all ages who may have experienced life changing events such as redundancy, retirement or bereavement, or be in recovery from addictions or mental or physical health problems.
Huddersfield Women's Aid. A charity based in Kirklees which supports women and children fleeing domestic abuse, honour-based violence and forced marriage, into safe accommodation.
Forget Me Not. A children's hospice that supports children with life-shortening conditions, their families and families living with the loss of their child across West Yorkshire.
To keep up with the adventures of Felix and Bolt follow the Felix and Bolt Huddersfield Station Cats Facebook page
Notes to editors
Pictured:
Huddersfield Stations colleagues and Bolt -
Back: Dan Oldroyd (Gateline Assistant) and Matthew Marshall (Gateline Assistant).
Front: Chrissy Walsh (Travel Advisor), Angela Hunte (Station Manager), and Amanda Wasp (Travel Advisor).