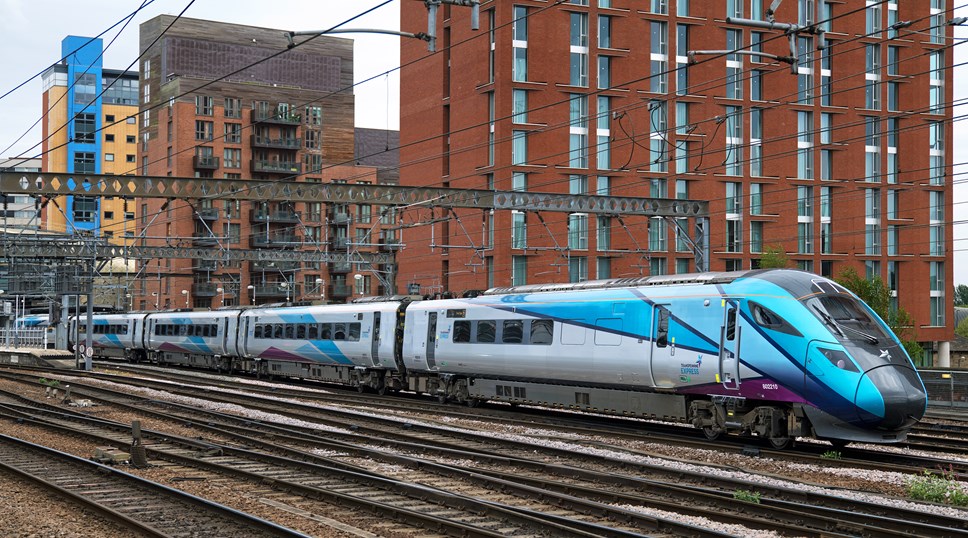 TransPennine Express issues important advice for those travelling over the Christmas period
Rail operator TransPennine Express (TPE) is advising customers across the North and into Scotland to plan ahead with major engineering work by Network Rail planned to take place after Christmas into the New Year.
Work to the infrastructure will impact TPE services between 27 December and 2 January across different parts of the rail network, and will mean significant changes to services, with fewer trains running than usual and rail replacement services in place on some routes.
Those with plans to travel by rail during this week are strongly urged to plan ahead, check their journey very carefully and allow extra time, as trains may be busier, and journeys may take longer than usual.
Customers travelling between Scotland and Manchester/Liverpool via Preston on New Year's Day (1 January), should travel only if their journey is absolutely essential, with significant changes to services on this date.
Further industrial action has also been announced by the RMT on the run up to Christmas and during the first week of January, on 13, 14, 16 and 17 December and 3,4, 6 and 7 January, which if it goes ahead will cause major disruption for customers, with a limited service expected to operate.
Kathryn O'Brien, Customer Service and Operations Director for TransPennine Express said: "The engineering work being carried out in multiple locations across the North by Network Rail over the festive period is key to maintaining the railway for all those that use it.
"We've worked closely with Network Rail and other train operators to keep as many customers moving as possible, as we know many rely on our services to see friends and family at this time of year, however these works will have a big impact on our services, with significant changes for many.
"I would urge anyone planning on using the train between 27 December and 2 January to check their journey very carefully ahead of time, and to allow plenty of extra time if travelling – with those intending to travel between Scotland and Liverpool/Manchester on New Year's Day 1 January) urged to do so only if their journey is absolutely necessary."
As usual, TPE services will finish earlier on Christmas Eve and there are none running on Christmas Day or Boxing Day. Services will restart again on the 27 December albeit with a slightly later start and engineering work impacting services across some routes.
More information on the works taking place can be found here.
Notes to editors
Summary of key changes and impact on TransPennine Express services:
Saturday 24 December
Normal service but with services finishing earlier due to the Christmas shutdown
Sunday 25 December – Monday 26 December
There are no services on Christmas Day or Boxing Day
Tuesday 27 December to Monday 2 January
Manchester Piccadilly - Improvements to platforms 13 and 14
Between 27 December and 2 January, TPE trains that would normally call at platform 13 and 14 won't be able to stop at Manchester Piccadilly. Customers are advised to use Manchester Oxford Road or Manchester Victoria to start or finish their journey
When the platforms are closed between 31 December and 2 January, all TPE services from the North West/Scotland will start and terminate at Preston, with onward connections to Manchester and Manchester Airport
Services from Liverpool via Warrington Central will terminate at Manchester Oxford Road and those from the east will run as normal, except the service from Leeds to Manchester Airport which will terminate at Manchester Victoria and won't go to Manchester Airport and services from Cleethorpes will terminate at Manchester Piccadilly
York Station upgrade
Between 27 December and 1 January, buses will replace trains between Scarborough and York, between Northallerton and York and between Middlesbrough and York. On 27 December and 1st January, buses will also be extended to run as far as Redcar Central and Saltburn
A train service will operate every two hours between Newcastle and Northallerton
On 1 January, before 12:00, buses will replace trains between Newcastle and Northallerton
After 12:00, there will be a train service every two hours between Newcastle and Northallerton
TRU work between Leeds and Huddersfield
Between 31 December and 2 January, all services between Huddersfield and Leeds will operate via a diversionary route and will not call at stations in between including Dewsbury
Buses will replace local stopping service trains between Huddersfield and Leeds
Services between Liverpool and Hull will only operate between Leeds and Hull
Work taking place at Carstairs outside Edinburgh
On 1 January, buses will replace all train services between Scotland and Manchester/Liverpool via Preston
Until 13:00 on 2 January, trains will only operate as far as Carlisle and buses will replace trains between Carlisle and Scotland. After 13:00, train services will be extended to run between Preston and Scotland